Pier & Beam Foundation Repair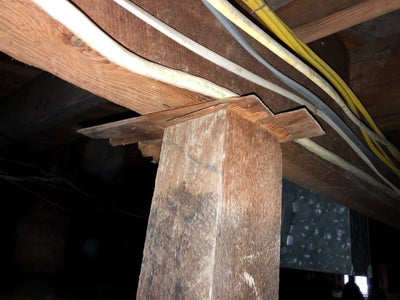 In the heart of Texas, issues in pier & beam foundations aren't just worrisome—they can threaten the safety and comfort of your home.
Foundation Support Specialists are your premier choice for proficient pier & beam foundation repairs throughout Texas. With a legacy of expertise and a team of trained professionals, we offer precise repair strategies addressing the unique challenges of these residential homes.
Choosing FSS means securing your home with solutions rooted in unparalleled knowledge and experience.
What is a Pier & Beam Foundation? 
A pier and beam foundation, often referred to as a post and beam or crawl space foundation, is a type of foundation built above the ground level, leaving a noticeable space or "crawl space" beneath the structure of the home. Here's a breakdown of how it works:
Piers: These are vertical columns, typically made of concrete or brick, that are dug deep into the ground to support the weight of the house. They provide stability by anchoring into the more stable layers of the earth, helping to resist shifting or settling.
Beams: These are horizontal structures that sit atop the piers, spanning the length or width of the home. The beams carry the load of the house and distribute it evenly across the piers.
Crawl Space: The significant space left between the ground and the base of the home not only allows for easy access to plumbing and electrical systems but also provides a barrier from ground moisture, reducing the risk of certain types of damage or decay.
Some advantages of pier and beam foundations include:
Flexibility: They're great for areas with shifting soils as they can be adjusted relatively easily compared to slab foundations.
Accessibility: The crawl space makes it simpler to access, repair, or modify utilities without digging.
Moisture Prevention: The elevated design helps protect against flooding and reduces the chances of mold and rot.
However, like any foundation type, pier and beam systems also have their challenges. Regular inspections are critical to ensure the wood remains free from rot and pests, and the piers stay stable and aligned.
If you're uncertain about what kind of foundation your home sits on or need more information about its condition, don't hesitate. Call us for an inspection, and our team at Foundation Support Specialists will be there to guide you every step of the way.
Our Approach to Pier & Beam Foundation Repair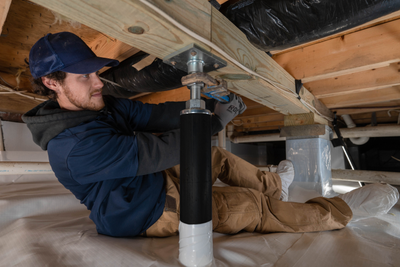 Foundation Support Specialists' methodology embraces the latest techniques, profound expertise, and an unwavering commitment to homeowners. Each project starts with a meticulous inspection to identify the challenges in your pier & beam foundation. With these insights, our specialists design a custom repair plan, ensuring your home's stability is prioritized.
Pier and beam foundations can be fixed in several ways, depending on the specific damage your foundation is experiencing.
Here are the solutions our team uses: 
Support Jacks: FSS utilizes crawl space support jacks to provide steadfast support for your pier and beam foundation. By crawling underneath your home, measuring its distance from the ground, our team lays a base for each support jack. Once set up, these jacks offer enduring support, ensuring that your foundation remains steadfast.
Sonotubes: Acting as hollow concrete columns, Sonotubes are strategically placed around the foundation. Our process involves removing the impaired pier and beam footing and substituting it with a robust concrete form. This technique not only revitalizes the foundation but also boosts its support capability.
Shoring: If your pier and beam foundation exhibits signs of wear, shoring serves as an immediate remedy. By affixing new, resilient beams, joists, and piers to the damaged ones, shoring introduces an added layer of support, maintaining the structural integrity of your home.
Every service is executed with precision, guaranteeing dependable results for homeowners.
Reach out to FSS today to book your complimentary home evaluation.
What makes FSS's pier and beam foundation repair exceptional?  
Our Sonotubes can support approximately 3,000 pounds per square foot, vastly exceeding a basic pier and beam foundation's capabilities.
Shoring is efficient and ensures that both your home's interiors and yard remain undisturbed.
Our support jacks can be adjusted over time to better adapt to any changing conditions in your home.
Shoring is efficient and ensures that both your home's interiors and yard remain undisturbed.
Signs Your Home Needs Pier & Beam Foundation Repair 
Early detection can save you from potential hassles including:
Sagging floors
Doors that stick or don't close properly
Uneven or tilted beams
Signs of wood decay
Moisture issues in the crawl space
Timely attention to these signs can prevent further complications. Turn to FSS for expert guidance and solutions.
Why Choose FSS for Your Residential Pier & Beam Foundation Repair? 
When you choose to work with FSS, you gain several benefits:
Time Conscious Planning: We respect your need for peace and quiet in your home. Our swift operations ensure minimal interruptions.
Proficiency: We leverage our vast experience to address pier & beam foundation issues adeptly.
Cost-Effective: Our techniques target the root cause, ensuring lasting results and cost savings.
Top-Grade Tools: We employ the best in technology, guaranteeing results that stand up to the test of time.
Longevity Assured: With our repairs, rest easy knowing your foundation is secure for the long haul.
FSS is more than a service; we're partners in ensuring the stability and safety of your home.
As Texas's trusted foundation repair expert, FSS brings the dedication and quality your home deserves. Get in touch for a no-obligation evaluation!
Contact Foundation Support Specialists for Your Pier & Beam Foundation Needs!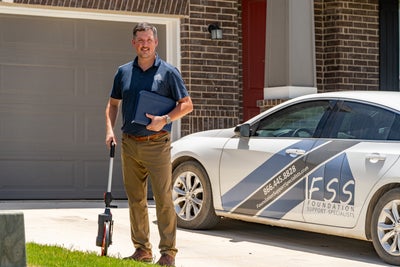 Minor foundation issues can escalate if overlooked. Secure the safety and comfort of your beloved home.
Contact us at Foundation Support Specialists to schedule your free inspection. Committed to top-tier, effective, and homeowner-centric pier & beam foundation repair solutions, we're here to stand by you!
Pier & Beam FAQs
Pier and beam foundations, also known as post and beam foundations, offer several advantages. They provide easy access to plumbing and electrical systems, reducing repair and modification costs. Elevating the house above ground level enhances flood protection. These foundations also absorb ground movements better, resulting in fewer cracks and structural issues, offering a more comfortable living experience. 
Foundation Support Specialists combat wood rot in pier and beam foundations through a comprehensive process. This involves a thorough inspection to identify affected areas. Deteriorated wood is replaced with high-quality timber for structural integrity. Fungicides and protective solutions are applied to prevent future rot and pest infestations. Encapsulation of the crawl space with dehumidifiers and vapor barriers may also be recommended to control moisture and prevent wood rot recurrence. 
The time it takes to repair a pier and beam foundation can vary considerably depending on the extent of the damage and the specific repair solutions being implemented. Generally, minor repairs can be completed in a few days, while more extensive repairs may take several weeks. In projects where additional piers are being installed or the entire foundation is being replaced, the timeline could extend even further. 
Publish Date:
Last Modified Date: