Keeping your home healthy starts from the ground up – literally. The health of your crawl space is often overlooked, yet it directly influences the comfort, energy efficiency, and even the air quality of your home. Let's explore how innovative crawl space insulation solutions, such as ExTremeBloc™ Crawl Space Insulation, can transform your crawl space into a dry, energy-efficient area, enhancing the health of your entire home.
Why is Crawl Space Insulation Important?
Proper insulation is crucial for a dry and healthy crawl space in your home. If the insulation in your crawl space is wet, moldy, pest-ridden, or is failing to stay in place, this could lead to problems throughout your entire home. Over half the air you breathe inside your home originates from the crawl space. Meaning, issues such as mold, high humidity, or unpleasant conditions in your crawl space are being circulated into your living space.
Inadequate insulation can also result in cold floors during winter, and an overtaxed air conditioner during summer. If you're experiencing any of these problems in your Texas home, it's time to consider a top-quality solution from Foundation Support Specialists.
Types of Crawl Space Insulation
When deciding on insulation for your crawl space, it's important to consider its R-value, a measure of insulation's ability to resist heat flow. The higher the R-value, the better the insulating power. Common materials used in insulation include:
Fiberglass: A non-flammable insulator composed of fine glass strands. Despite its widespread use, it absorbs water and can easily host mold and pests. Its R-value typically ranges from 2.2 to 3.8.
Cellulose: An eco-friendly, fire-resistant material made from recycled paper and other organic materials. However, it can be challenging to apply. Its R-value can go from 3.1 to 3.8.
Polyurethane Foam: A light, low-density material that can easily be sprayed into non-insulated areas. It offers a superb R-value of approximately R-6.3 per inch.
Polystyrene (EPS): This waterproof material has excellent thermal properties and a smooth surface. It often comes in blocks or panels, with an R-value generally ranging from 3.6 to just above 4.
Introducing ExTremeBloc™: Superior Crawl Space Insulation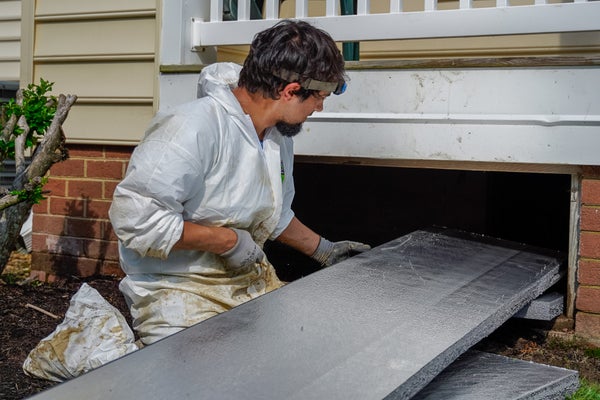 For crawl spaces, Foundation Support Specialists uses ExTremeBloc™ Crawl Space Insulation, a superior choice for creating a dry, energy-efficient area. Compliant with building codes and boasting superior safety and energy ratings, ExTremeBloc™ combines highly effective graphite-impregnated insulation with an expanded polystyrene core and a built-in radiant heat barrier surface. This provides your crawl space walls with an unbroken plane of R-10 insulation.
The ExTremeBloc™ Insulation Advantage
ExTremeBloc™ Insulation stands out due to its unique composition. Tiny graphite particles permeate the foam insulation to give it a silver/gray shine, reflecting heat and lowering the material's conductivity for superior R-value per inch. Additionally, the radiant barrier reflects heat back into your crawl space for ultimate energy savings.
The Benefits of ExTremeBloc™ Crawl Space Insulation
By choosing ExTremeBloc™ Crawl Space Insulation, your crawl space and home will experience several benefits:
Compliance with national energy codes: ExtremeBloc updates crawl spaces to meet the current national energy code requirements.
Moisture-resistant insulation: The closed-cell insulation used in ExtremeBloc does not absorb moisture like many other insulation options, providing superior moisture resistance.
High energy savings: ExtremeBloc, with its graphite-enhanced expanded polystyrene core and dual layers of durable film facer, can reduce energy consumption by 15-20%.
Stable thermal performance: The thermal performance of ExtremeBloc remains stable over time, ensuring the insulation R-value meets design requirements throughout the structure's lifespan.
Easy installation and cleaning: The rigid panels of ExtremeBloc are not only easy to install using special fasteners, but can also be easily cleaned of any dirt or debris.
Environmentally friendly solution: The insulating cells of ExtremeBloc, which contain air, provide an eco-friendly insulation solution for your crawl space.
Pest and termite resistance: Incorporated with a termiticide during the manufacturing process, ExtremeBloc insulation deters termites and other pests from damaging the panels and the wooden structures they protect.
With these benefits in mind, it's clear that your crawl space can be greatly enhanced with the inclusion of ExTremeBloc™ Crawl Space Insulation.
Foundation Support Specialists Can Help!
Is your crawl space insulation equipped to deter pests, resist moisture, and withstand time? Feeling uncertain about the condition of your crawl space or wondering where to initiate repairs? At Foundation Support Specialists, we are here to guide you towards the ideal solution for your home and pinpoint the root cause of your crawl space issues.
Incorporating ExTremeBloc™ Crawl Space Insulation as part of our comprehensive crawl space repair system, along with our Floor Insulation and CrawlSeal™ Vapor Barrier, we aim to deliver holistic solutions for all your crawl space concerns.
Don't hesitate to reach out! Scheduling your free inspection is a breeze, taking just 30 seconds. It could be the stepping stone towards a healthier, more energy-efficient home. Contact us today!