Sinking Porch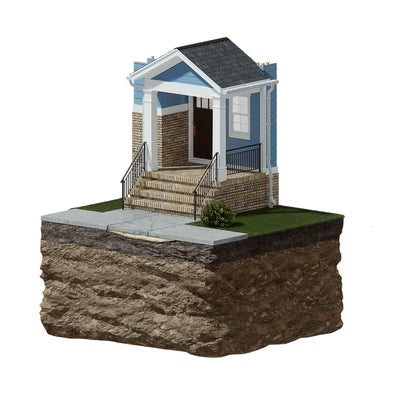 A sinking porch doesn't just spoil your home's curb appeal. The unlevel surface can lead to accidents and an unsafe environment, especially for those with limited mobility.
Several factors, like soil erosion and settling, can cause porches to sink. Neglecting these issues can result in significant damage and expensive repair bills.
Foundation Support Specialists, with the help of modern technology and tailored services, present optimal solutions to tackle your sinking porch problems. We employ our groundbreaking concrete lifting technique to handle these challenges effectively, ensuring your porch and home remain safe and secure.
Explore this page to grasp a deeper understanding of common problems related to sinking porches and why seeking professional repair is imperative.
Understanding the Sinking Porch Issue
When your porch begins to lower or settle from its original height, you're facing a sinking porch problem.
This issue primarily arises due to underlying soil or foundational instabilities. This can lead to cracks, tilting, and misalignment, making the porch less appealing and more hazardous.
Moreover, a sinking porch may be a sign of other related concrete challenges, such as:
Cracked pathways
Sunken steps
Dipping concrete slabs
Cracked driveways
Damaged pool decks
Concrete discoloration, flaking, and staining
Such problems demand immediate expert attention to halt further deterioration and to safeguard your home's structural integrity. Reach out to Foundation Support Specialists at the earliest sign of these complications.
Why Porches in Texas Sink
Your porch might be sinking due to:
Soil Settlement: Natural compaction of soil under the porch can result in uneven settling.
Soil Erosion: Water flow beneath the porch can wash away supporting soil.
Heavy Rainfall: Excessive rain can erode the soil foundation of the porch.
Freeze-thaw Cycles: Particularly in areas with expansive soils, temperature fluctuations can make porches sink.
Tree Root Growth: Roots can displace soil and exert pressure, destabilizing your porch.
Faulty Concrete Procedures: Inadequate pouring or curing can lead to weakening over time.
Delaying action can worsen the damage to both the porch and your home's foundation, making repairs more extensive and costly.
Is Repairing a Sinking Porch Possible?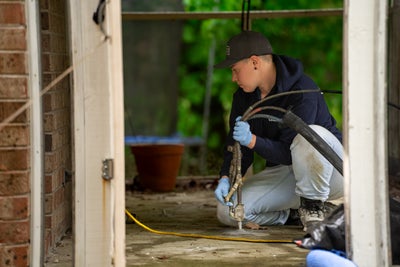 Absolutely!
But, a holistic strategy is essential to genuinely address the root of the problem. While some quick fixes might offer a temporary solution, they won't guarantee long-term stability.
Foundation Support Specialists advocate for a comprehensive approach rather than temporary DIY remedies or methods like mudjacking. Our unique concrete lifting technique, using polyurethane injections, is crafted to gently elevate and stabilize sinking porches.
Depending on the damage severity and your home's foundation, other solutions like foundation piers might be recommended.
The FSS Way to Elevate a Sinking Porch
Here's how Foundation Support Specialists' pioneering concrete lifting system functions:
Detailed inspection to identify the root causes.
Drilling minuscule holes in the depressed concrete sections.
Inserting valves to inject foam.
Combining two proprietary foam components.
Rapid foam expansion beneath the concrete.
The dense foam sets in approximately 15 minutes, raising the slab.
Post-injection cleanup and patching.
Sealing all cracks to future-proof against water damage.
Regular maintenance to enhance repair longevity.
Our tailored foam solution ensures your porch stands tall, outperforming traditional mudjacking. Schedule a consultation with Foundation Support Specialists for an in-depth discussion.
The Urgency of Addressing a Sinking Porch
Acting promptly on a sinking porch:
Ensures Safety: Leveling the porch minimizes trip hazards, particularly for elderly individuals.
Minimizes Damage: Early intervention can avert rapid deterioration.
Prevents Water Damage: Ensure water flows away from your home to avoid leakage.
Preserves Property Value: Enhance your home's entrance aesthetics.
Safeguards Your Foundation: Addressing porch issues can indirectly protect your home's foundation.
Enhances Usability: Restore your porch's original functionality.
Foundation Support Specialists stand by our premium products and solutions, guaranteeing longevity and surpassing offerings by other businesses.
Choose Foundation Support Specialists for Dependable Concrete Lifting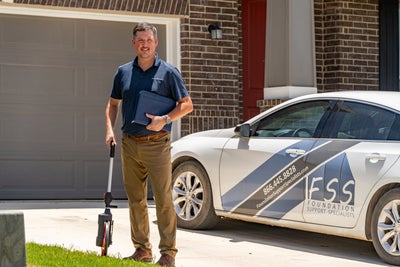 Beyond mere aesthetics, a sloping porch poses structural challenges. Trust Foundation Support Specialists for impeccable concrete lifting solutions. Reach out for a complimentary, no-commitment inspection and bid your sinking porch concerns goodbye.
For over a decade, homeowners across Texas have relied on us for steadfast solutions, recognizing our commitment to excellence and customer satisfaction.
FAQs
Generally, homeowner's insurance doesn't cover sinking porch repair, as it's seen as gradual damage. Consult your insurer for specifics. We offer flexible financing options to cater to your needs. 
Publish Date:
Last Modified Date:
Explore more problem signs