Uneven Driveway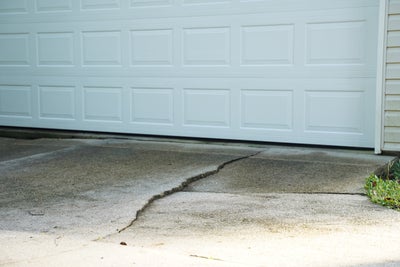 While a cracked driveway may be common, it's a problem that shouldn't be overlooked for long. Unfortunately — beyond being an eyesore —they're a hazard, potentially harming vehicles, and foundations, or even causing trips and falls.
Foundation Support Specialists is here to help Texas homeowners with top-notch concrete lifting solutions. We focus on durability and effectiveness. With us, you're investing in safety and your home's appeal.
On this page, you'll discover what causes cracked driveways and what expert solutions FSS can employ to fix yours.
What Is a Cracked Driveway?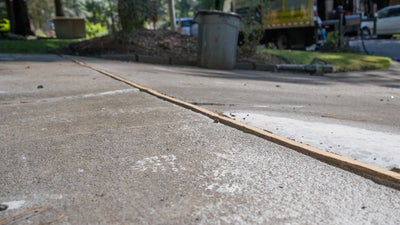 When we say cracked driveway, we're referencing a damaged concrete driveway that has formed fractures, lines, or disruptions over the years. These flaws vary from faint, nearly invisible hairline marks to deeper, prominent, and clear divides.
A driveway might showcase a lone fracture or several splits dispersed throughout the concrete. Damaged driveways are unattractive and can pose significant safety hazards, potentially resulting in trips, tumbles, and harm.
If your driveway is showing signs of wear, your property might also exhibit other issues, including:
Cracked sidewalks
Cracked concrete patio
Sinking porch
Cracked pool deck
Concrete problems like pitting, flaking, and staining
Sinking concrete slab
Concrete driveways are susceptible to cracking due to various factors, often necessitating professional inspection and repair services—such as those offered by Foundation Support Specialists—to mitigate any safety hazards and prevent further damage. When you spot them, get in touch with FSS.
What Causes Driveway Cracks?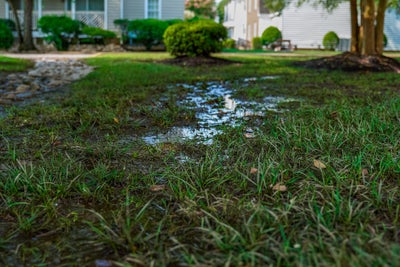 Cracks can appear for plenty of reasons, but in Texas they are mainly due to one or several of the following factors:
Soil Issues: Settling or eroding soil underneath the driveway causes uneven stress and cracking.
Trees: Roots pushing up can break the concrete.
Weather: Freeze-thaw cycles allow water to seep into cracks and expand when frozen. Concrete also undergoes normal expansion and contraction over time as temperatures fluctuate.
Construction Mistakes: Poor concrete pouring or curing during original construction makes concrete driveways susceptible to damage.
Heavy Loads: From compact cars to full-size pickup trucks, vehicles are heavy items weighing thousands of pounds. This strains concrete driveways and the underlying soil over time, leading to cracks and sunken slabs.
If you spot these problems, contact FSS to ensure the same issues aren't affecting your home's foundation.
Can You Fix a Cracked Driveway? 
Yes! Cracked concrete pathways can be repaired and restored. It's crucial to understand that as cracks evolve and widen, the range of repair methods might become restricted. Hence, it's vital to get your pathway professionally evaluated and fixed upon first signs of deterioration.
Genuinely mending them goes beyond merely filling the gaps with sealant or concrete compound, employing age-old leveling procedures, or laying fresh concrete. These are merely interim fixes.
To properly address cracks and uneven sections, foundational issues like shifting soil must be tackled. The perfect approach is concrete elevation, which uplifts depressed areas and secures the pathway. Foundation Support Specialists bring forward specialized techniques to ensure lasting outcomes, guaranteeing each repair meets the highest standards.
How to Fix a Cracked Driveway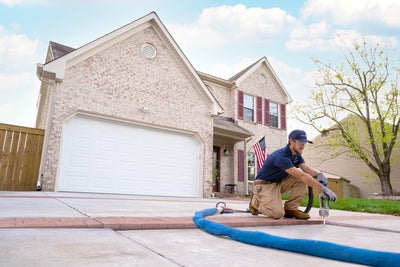 Foundation Support Specialists's certified concrete driveway repair process involves several important steps:
Complete an initial inspection, identify the cause, and determine appropriate repair solutions like SettleStop™ PolyRenewal™.
Drill small, penny-sized holes into affected driveway areas.
Place injection ports in the holes.
Mix together a two-part, closed-cell polymer foam.
Inject foam under driveway slabs.
The foam expands, filling any voids, and cures within 15 minutes.
The slab lifts and the soil is stabilized.
Remove injection ports and fill and smooth the drilled holes.
Apply sealant to cracks and joints to prevent further damage.
Regularly maintain and monitor your concrete driveway.
With FSS's advanced products, you get a better fix than with old-school methods. Our methods are fast, precise, and last longer.
Why Address Driveway Cracks Now 
Fixing cracks ASAP provides several benefits:
Preventing Further Deterioration: Tackling cracks as soon as they appear can avert deeper structural problems.
Improved Safety: Ignored cracks may present grave safety threats, resulting in mishaps and harm. Wide cracks are dangerous for pedestrians or vehicles. Slim cracks might snag shoe heels or bike wheels.
Protected Home Value: Keeping a pristine driveway boosts its attractiveness and the home's worth.
Limited Repair Expenses: Delaying repairs increases the labor and cost involved in comprehensive fixes.
Don't settle for quick fixes. Our PolyRenewal™ system can restore your driveway to like-new condition. Our concrete lifting solutions are designed to stabilize cracking and uneven concrete properly. Contact Foundation Support Specialists today to schedule your free inspection.
Contact FSS for Trusted Concrete Lifting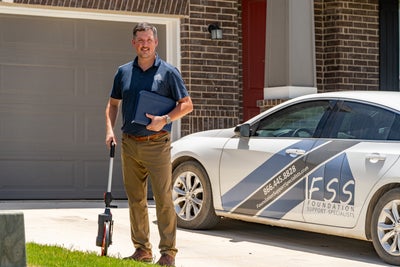 Don't let a cracked driveway diminish the safety and appeal of your home. If your concrete driveway is cracked, sunken, or uneven, the concrete specialists at Foundation Support Specialists can help. Reach out today to schedule your free inspection and estimate.
FSS knows how frustrating cracked driveways are – both when it comes to safety and aesthetics. That's why we proudly offer top concrete lifting solutions. Our PolyRenewal™ technology can quickly and precisely lift and stabilize sunken concrete slabs the right way the first time.
FAQs
Absolutely! While refreshing the surface can give an old driveway a new lease on life, it's vital to address underlying issues like cracks to ensure a long-lasting finish. Foundation Support Specialists uses strong polyurethane injections to provide a comprehensive solution that not only refreshes but also reinforces your driveway. Considering an update? Reach out to us for a complimentary evaluation. 
A well-maintained concrete driveway can serve homeowners for 20 years or even longer. However, it's not uncommon for driveways to show signs of wear or minor damage over the years. Foundation Support Specialists concentrate on addressing these issues, ensuring that not only is damage repaired, but the overall lifespan of your driveway is extended. Curious about the condition of your driveway? Contact us for a free assessment. 
At Foundation Support Specialists we understand that every driveway is unique. Our approach is tailored to fit the specific needs of your driveway. Some of our lifting methods can elevate sunken sections in a mere 15 minutes. Generally, the entire repair and lifting process can be completed within a single day. If you're considering concrete lifting, or simply have questions, reach out to FSS for a complimentary inspection and a detailed project timeline. 
Publish Date:
Last Modified Date:
Explore more problem signs