At Foundation Support Specialists, we understand that your home is more than just a building. It's a sanctuary, a place of security, and likely your biggest investment.
That's why we're here to provide clarity about an issue many Texas homeowners face: movement in their pier and beam foundations.
While these foundations were once the golden standard, the rise in slab-on-grade construction has led many to question their pier and beam foundation's performance. 
Historical Evolution of Foundations
Pier and beam foundations were widely employed before the mid-20th century, economical and effective for homes at that time. However, as architectural styles evolved and economics shifted, the construction industry saw the rise of slab-on-grade foundations. 
Construction Details of Pier and Beam Foundations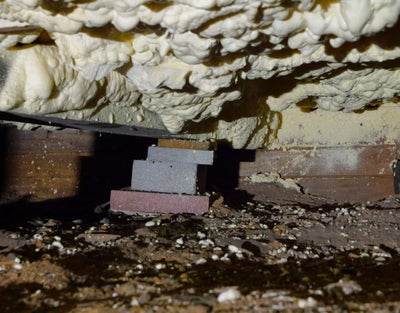 A conventional pier and beam foundation encompasses piers that are embedded deep into the ground, spaced approximately 5-6 feet apart, while a concrete or masonry perimeter wall acts as the beam.  
Typically misunderstood the term "beam" is not just confined to the wooden beam resting atop the piers but incorporates the foundational perimeter wall as well. This beam encloses the crawl space formed by the piers, which in turn support the wooden beams crucial to the floor and wall framing. 
Understanding the Effects of Texas' Climate on Pier and Beam Foundation Movement
The movement of a pier and beam foundation is due to two key elements: the enduring strength of the wooden piers and the fluctuating moisture levels within the foundation supporting soils.
Wooden piers are commonly constructed from cedar wood because of its inherent resistance to decay. However, piers can still weaken over time when persistently exposed to moisture. This continual exposure increases the onset of decay and leads to voids in the soil below the piers.
As this decay process unfolds, the piers begin to settle, subsequently influencing the structural integrity of the framing they support. The manifestation of this degradation can be evident as leveling concerns and observable interior signs like drywall cracks, floor cracks, floor and wall gaps, and drywall nail pops.
Moisture, however, plays a remarkably significant role in the foundation movement, especially considering the dry climate and recurring periods of drought prevalent in Texas. Soil beneath the foundation, like a sponge, swells when it absorbs water, thereby pushing against the piers and beams. Consequently, if a section of your home's foundation lies in a dry area while another portion is adjacent to a water source, such as a leaky faucet or a compromised drain, the resulting disparity in soil expansion can create a discernible unevenness in your floor levels. 
The Next Step
Unfortunately, pier and beam foundations can show more pronounced unevenness than conventional slab-on-grade foundations, due to water-related decay and soil swelling. If you're planning on using finishes such as stucco and tile, which are particularly sensitive to foundation movement, it's important to be prepared for potential cracking.
At Foundation Support Specialists, we believe that understanding the reasons behind your foundation's movement is the first step towards resolving these issues. Our team is dedicated to helping Texas homeowners navigate the intricacies of their homes' foundations.
We provide industry-leading expertise and support to ensure that your house remains your personal sanctuary. If you have noticed shifting in your home's foundation, it's time to contact Foundation Support Specialists for a free inspection to get started on repairing your home's foundation and restoring stability to your home.